Reading Picks for Preschool through Middle School, curated by our Stratford School Librarian, Keira Pride
Children, particularly younger children, crave the comfort of predictable routines and often struggle with transitions. In the summer weeks leading up to the beginning of a school year, children can become anxious, even if the transition means a return to familiar surroundings and old friends. With this in mind, we have curated a set of wonderful back-to-school stories for our August book list.  While each story's narrative is centered in a school, the lessons and themes about friendship, conflict resolution, curiosity and courage transcend the places. Some of our selections are fun and fanciful, for example a story about Rufus, the pig, who goes to school or the entire "Weird School" series.  Our school-story selections are intentional for this seasonal theme, but all reading is good preparation for school, so encourage your children to read by helping them find books that they enjoy – making reading yet another comfortable routine for them.
Preschool
The Kissing Hand by Audrey Penn, Illustrated by Ruth E. Harper
A beautiful, touching story about how we always hold the love of those closest to us, even when we cannot see them. Chester is about to have his first day of school but is too afraid to go. That is, until his mom shares the secret of the "Kissing Hand" to give him the reassurance and courage he needs. If your child ever needs a bit of reassurance or love, try reading this book together or try coming up with your own "Kissing Hand" ritual that you can share whenever you have to spend some time apart. Perfect for those with the first day of school jitters. If you like this one, read one of the next six in the series.
The Invisible String by Patrice Karst
A comforting story about two siblings who learn that everyone has an invisible string that connects them
to everyone they love, anywhere, anytime. You are never alone. The people who love you here and those who have passed away are never far because if you tug on this invisible string they can feel it in their hearts. This is a remarkable message for children who feel lonely, scared, anxious, or worried.  This reassuring feeling could help a child cope with a variety of issues from everyday things, like a storm, to serious issues, like the death of a friend or parent. The illustrations are done in soothing watercolors and the simple lines highlight the facial expressions and feelings of the characters.
Kindergarten
David Goes to School by Caldecott Honor author David Shannon
David finds out what the consequences are to his many actions in this nearly wordless book that is perfect for any student who is wondering what kindergarten might be like. This book is a great way for parents to discuss rules, and why teachers have them. Mr. Shannon has a whole series of colorful, silly books about David, and each of them has his West Highland terrier, Fergus, hidden somewhere on a page.
One by Kathryn Otoshicu
"Blue is a quiet color. Red's a hothead who likes to pick on Blue. Yellow, Orange, Green, and Purple don't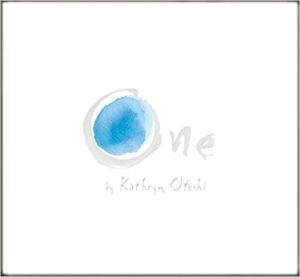 like what they see, but what can they do? When no one speaks up, things get out of hand — until One comes along and shows all the colors how to stand up, stand together, and count." Powerful understated artwork that teaches young ones not only colors and numbers but the importance of standing up for our friends against bullies. Contains important lessons  about being yourself, standing up for others, and making sure everyone counts. Check out the prequels and sequels to this book by this amazing award-winning author-illustrator. 
Rufus Goes to School by Kim T. Griswell, Illustrated by Valeri Gorbachev
Rufus Leroy Williams III is determined to learn how to read, but can he convince Principal Lipid to allow a pig to go to school? Rufus makes the best of his inability to read by imagining his own stories to go with the pictures in his favorite book. The tiny pig knows just how to solve his problem, though: with a backpack, he can go to school. But the principal seems to think it takes more than a backpack to attend school–if you are a pig, that is, since pigs are sure to cause all sorts of problems in school: track mud, start food fights, and more. Rufus decides a lunchbox is just the ticket, but the principal feels differently. The real necessary items were with Rufus all along: a book and the desire to learn to read it. The ending is truly heartwarming and has an important message of what is really important and special about attending school. 
Grades One and Two
My Weird School (Series) by Dan Gutman, Illustrated by Jim Paillot
With titles like, "Miss Daisy is Crazy!", and "Miss Hannah is Bananas!" students will have fun with these silly chapter books. The stories are about a second grade boy named A.J., who might possibly be a bit nervous about school, so he pretends that he hates it. The humorous, simply written stories get their zest largely from A.J.'s lively, first-person commentary on school life and legend. The chapters are short and have cute illustrations, which is perfect for reluctant readers.
Eerie Elementary (Series)  by Jack Chabert, Illustrated by Sam Ricks
Sam Graves discovers that his elementary school is ALIVE! Sam finds this out on his first day as the school hall monitor. Sam must defend himself and his fellow students against the evil school! Is Sam up to the challenge? He'll find out soon enough: the class play is just around the corner. Sam teams up with friends Lucy and Antonio to stop this scary school before it's too late! This series is great for readers who are asking for something scary and are looking for a book with a hero.
Grades Three to Five
Spy School by Stuart Gibbs
Ben Ripley, a 12-year-old math genius, receives a mysterious summons to join the Academy ofEspionage, a secret recruitment arm of the CIA. Since his life's ambition is to become a spy, he is thrilled by the offer, but his first day is hardly what he expected. It involves ninjas, flying bullets, and Erica, the most beautiful girl he has ever seen. A great story for children who wonder what school could be like. Lots of action, adventure and comedy. 
Schooled by Gordon Korman
Capricorn, 13, lives with his hippie grandmother on a farm commune. He's never been to school, never
watched TV, and doesn't even own a cell phone. When his grandmother falls out of a tree while picking plums and is sent to rehab for several weeks, Cap stays with a social worker and is sent to the local middle school. There he is introduced to technology, spitballs, and harassment. The use of multiple perspectives allows the reader to visualize the plot, and more specifically the conflict, from several different angles–even allowing readers to better understand unlikeable characters. Each character adds a new depth and dimension to Cap's situation, allowing the reader to feel as if they are a part of Cap's middle school experience–as scary as that is! 
Middle School
New Kid by Jerry Craft
Seventh grader Jordan Banks loves nothing more than drawing cartoons about his life. But instead of sending him to the art school of his dreams, his parents enroll him in a prestigious private school known for its academics, where Jordan is one of the few kids of color in his entire grade. As he makes the daily trip from his Washington Heights apartment to the upscale Riverdale Academy Day School, Jordan soon finds himself torn between two worlds–and not really fitting into either one. Can Jordan learn to navigate his new school culture while keeping his friends and staying true to himself?
Booked by Newberry Award Winner Kwame Alexander
Soccer, family, love, and friendship take center stage as twelve-year-old Nick learns the power of words as he wrestles with problems at home, stands up to a bully, and tries to impress the girl of his dreams. Helping him along are his best friend and sometimes teammate Coby, and The Mac, a rapping librarian who gives Nick inspiring books to read. This story is perfect for every teenager trying to figure out how to adapt to the unexpected challenges of life at home and at school.