Through individual, family, and group meetings, we help students identify and apply to colleges where they are most likely to have room to grow and to meet their full potential, academically and personally.
A successful college process at Stratford Preparatory is about:
Developing self-knowledge, a growing sense of certainty in their identity and a desire to contribute positively and uniquely to the world.
Identifying a college path based on unique values, strengths, skill sets, and enjoyment of the work.
Building skills to navigate a complex process mindfully and confidently.
Celebrating good "fits" and each other's individual choices.
---
Meet Our College Counselor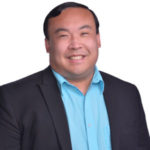 Harrison Cheng
College Counselor
hcheng1@stratfordschools.com
---
College Counseling Timeline
Grade 9
Students launch into high school with a foundation in critical study skills, and a wide variety of clubs and athletic teams for them to explore and develop their interests. Counselors get to know students as individuals, learn about their interests, and support them in developing an appropriate 4-year program of study and participation that builds upon their strengths and brings them joy in learning. We encourage all students to approach the college search as a learning process, one of discovery, with the goal of enrolling at a school where they will thrive.
Grade 10
Students take the PSAT in October and begin to explore collegiate and career pathways. With the support of their counseling team, students refine their extracurricular participation and begin to take on leadership roles within and outside of school. During the summer, students will prepare to take the SAT and/or ACT at the start of Grade 11.
Grade 11
Students are assigned an individual counselor to support them through the formal college application process. In October, students take the PSAT/NMSQT. Parents and students meet with the counselor to develop a preliminary college and university list that is balanced and well-researched. With the support of their counselor, students begin preparing application materials such as letters of recommendation, resumes, and portfolios. Students finish the year preparing for college interviews and drafting personal application statements.
Grade 12
Students write their personal statements and complete all application requirements. In November, students will submit applications for Early Decision/Early Action and the University of California system. From December through early January, students finalize and submit applications to additional colleges and universities. In the Spring, students learn about waitlists, appeals, and financial aid before committing to a college.
Throughout all four years, students have the opportunity to meet admission officers during on-campus and virtual school visits from leading colleges and universities from around the world.